So today I decided to Hell with the weathermen. I got into my car and headed towards the barn with a light heart and a touch of lead foot.
...And drove straight into the greasy icy mess that is a Major Storm. I am an idiot for not looking at the weather forecast before I left. I passed 4 accidents on my way to the barn (and nearly caused a fifth at one point because even with awesome snow tires, there's only so much one can do when unexpectedly confronted with glare ice).
It was beautiful driving though. I know plenty of people hate driving in winter storms, but there's something comforting to me about the immediacy of your surroundings. Instead of traffic flying along at 80 miles an hour while people pass each other helter skelter as they talk on cell phones or check their make-up...everyone SLOWS DOWN. Its one of those situations that appeals to me because it puts you squarely in the moment, and you are in a reality that is not only connected to, but somewhat dictated by Nature.
Driving through a winter storm...snow floats down from the sky, blanketing everything more than 20 feet away and obscuring details of the landscape. Houses, buildings, fields all disappear, hidden from view by a soft pervasive grey. Snow blooms upward, forming dancing spirals that spin their way across the road, evaporating as suddenly as they form. And it blows like sand straight across the road...scudding into hypnotic patterns of white that constantly rearrange themselves against the stark black of the road as the wind continues to blast its way over the landscape.
Everything white. Soft. Its a relief to the senses after bright colors and the overwhelming glare of sunny winter days. My body relaxes head to toe.
(Of course, not so much when you fly around a corner and see flares and an ambulance, and then hear the grating screeching sound of your ABS not working on the ice...)
But for the most part I love driving in winter, even through storms.
****************************************
***
Driving up the hill, watching the pasture come into view, I spotted the horses huddled together under a stand of trees, snow coating their backs, sticking to their forelocks and lashes. Despite forgetting my camera, I realized I simply had to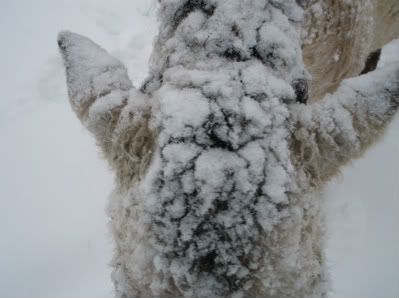 "Mom?"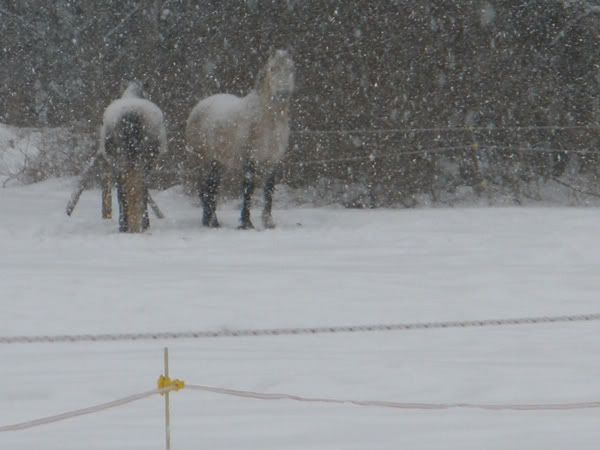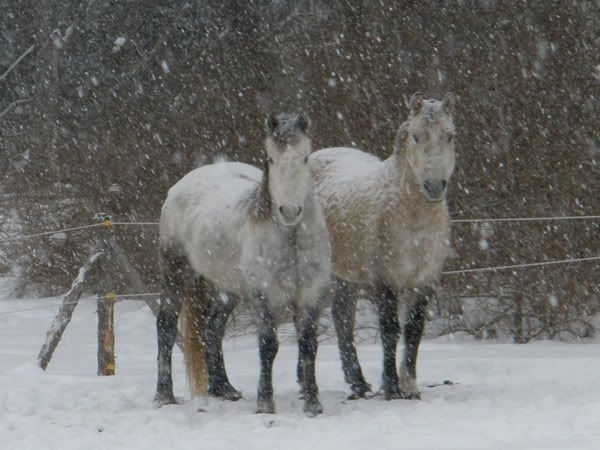 Thea spies a human...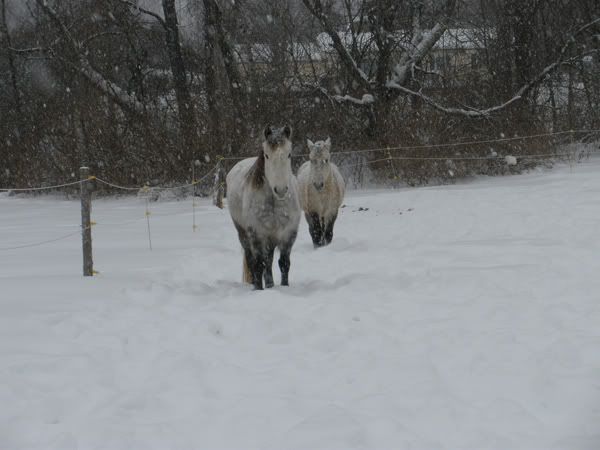 Sage giving me the "best possible greeting..."
"MOM! HI!"
Sage making faces at Thea, because "tthhhbbb!" his human showed up for once and not hers...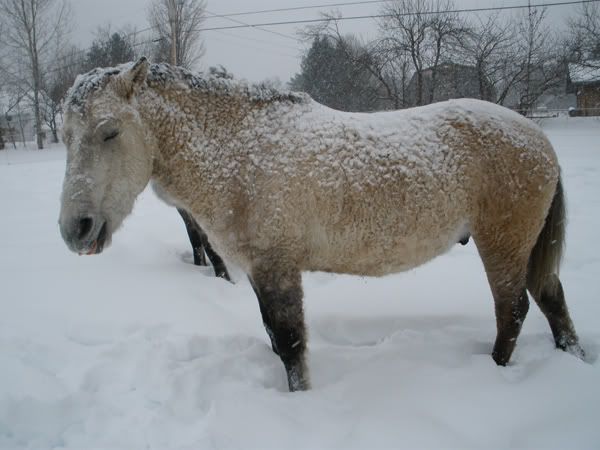 "MY. HUMAN. Back off!"
Sage was extremely cuddly today, and is so bored he readily followed me all over the pasture, tried to nibble on my coat, hair, shoelaces...this is a shot of him trying to grab my velcro cuff...I love how well you can see his curly eyelashes...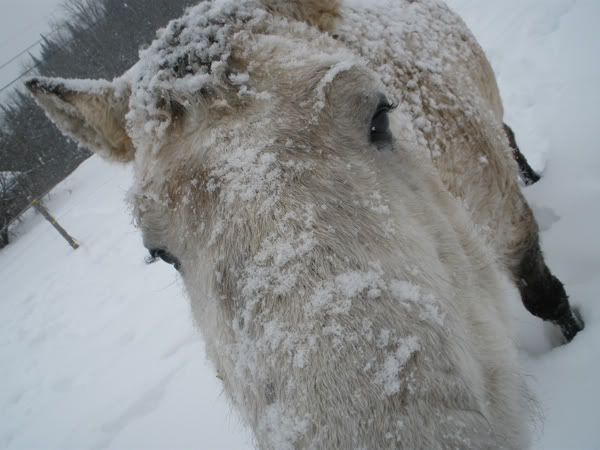 The new and improved (skinnier) Sage. Never mind the ears sprouting out of his back. I could make a whole separate post about common horsey photo bloopers and do a series of Sage photos with Thea heads sprouting out of him in every shot...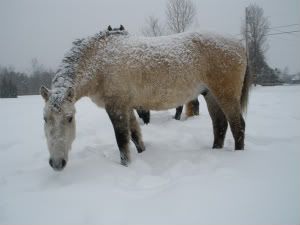 I reveled in just *being* with my horse today. With snow blowing horizontally, and the footing deep enough that every step was like walking through deep sand, it wasn't the time to work on groundwork or go for a ride. Sage made it very clear exactly what spot on his neck was meant to be scratched and petted, and hung his head over my shoulder for a second in between making scary faces at Thea. He was happy to see me, and for today, that was exactly the sort of healing presence I needed...
The last few snow storms we've had have been No Big Deal. The weathermen have managed to scare me into not driving to work twice recently with dire "winter storm warnings" and then...a few hours later we've had two whopping inches of snow.