Mom took Josie-kins and I took Miss Thea wide-ass out for a walk and we left Sage in the pasture to whinny his heart out since his manners were not in place.
Josie was so sweet getting the hang of stopping *with* Mom (turns out there are some brakes in there) and turning her head towards Mom every time they stopped, as if looking for reassurance.
Then, she let me pet her while she was eating her hay. The shoulder was ok the first few times, but the wither definitely crossed the line a little. Josie knows her boundaries. I backed off right away but was so excited about petting her neck!
It's really important to Mom that I work with her every time I'm out there. I'm fine with that, she doesn't take much time in her current stage of training, and I can see it makes a difference. We're both really excited about Josie-days-to-come. Riding vacations in NY with a mule!!
Anyhow, the important thing is, there's
You can see where they shaved her tail... :(
...and where her mane has gone white from scar tissue...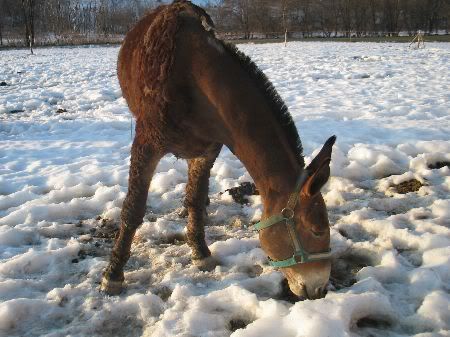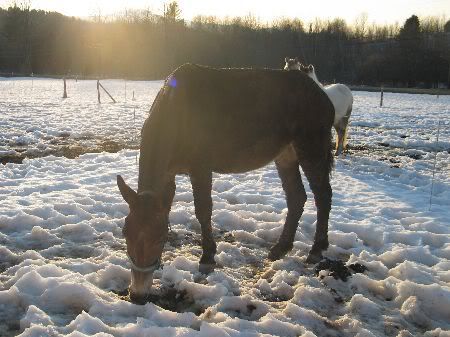 And some of Sage...
No Sage! It's MY HAY!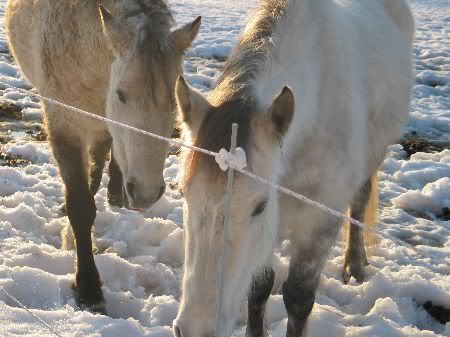 "Okay, you can share..."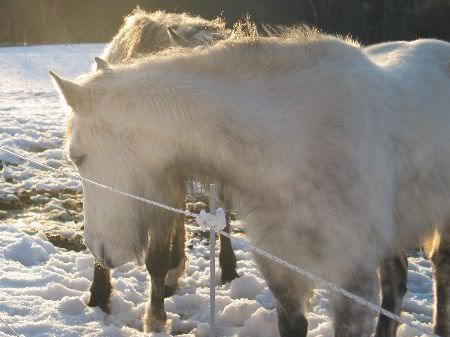 Tooo sunnnnyyy....
Sage is being a biatch who lunges at Josie over the fence every chance he gets. Gah.